Wednesday, 15 August 2018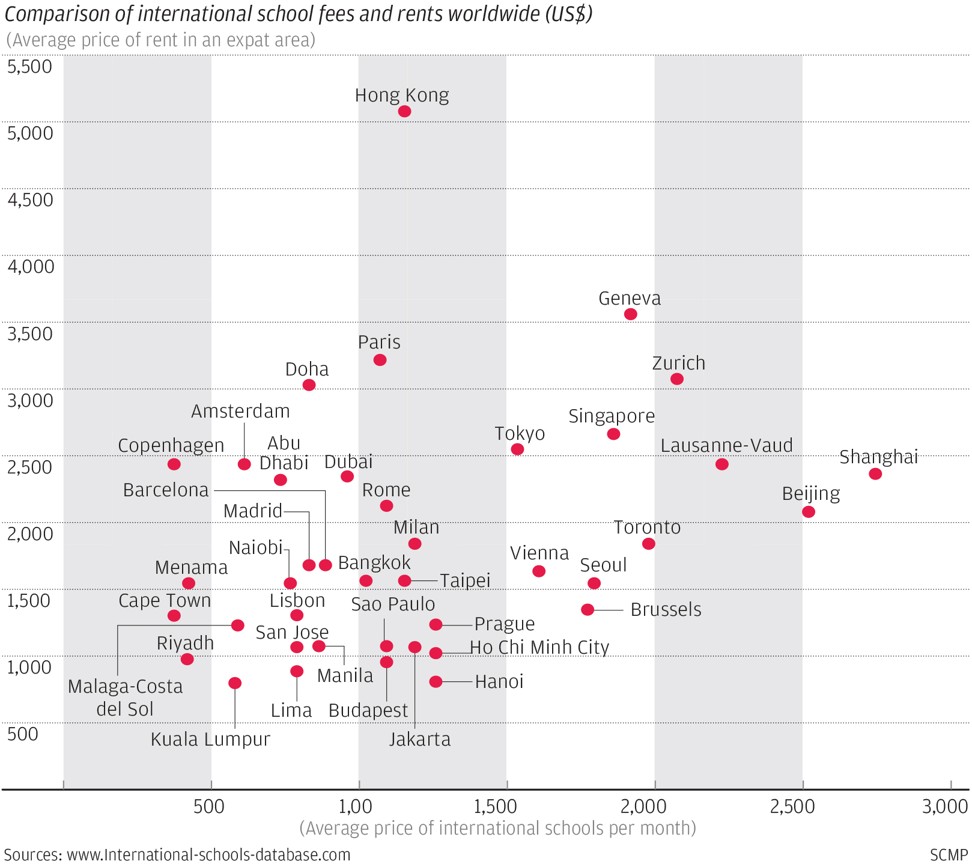 Chinese parents keen to enrol their children in international schools but reluctant to pay the exorbitant tuition fees in the mainland are turning to Thailand as an option, a trend that has bolstered the local property market.
Peggy Wang, a mother of a 10-year old girl and six-year old boy, is one such parent who opted to move to the northern Thai city of Chiang Mai, where annual tuition fees at less than 60,000 yuan (US$8,732) are a quarter of the 240,000 yuan her children's Beijing bilingual school had charged.
"The teachers in the Beijing school change frequently, but in Thailand, teachers have families there, so the faculty is stable," Wang said. "In Beijing, my children have to take extra English classes after school in the absence of an English-speaking environment outside class, but not in Thailand."
She plans to send her children to international schools in Bangkok when they get older, where fees will rise to about 100,000 yuan a year. To prepare for that, she has bought a 31 square metre flat in Bangkok for 650,000 yuan, in addition to the Chiang Mai villa she lives in and a flat in Pattaya.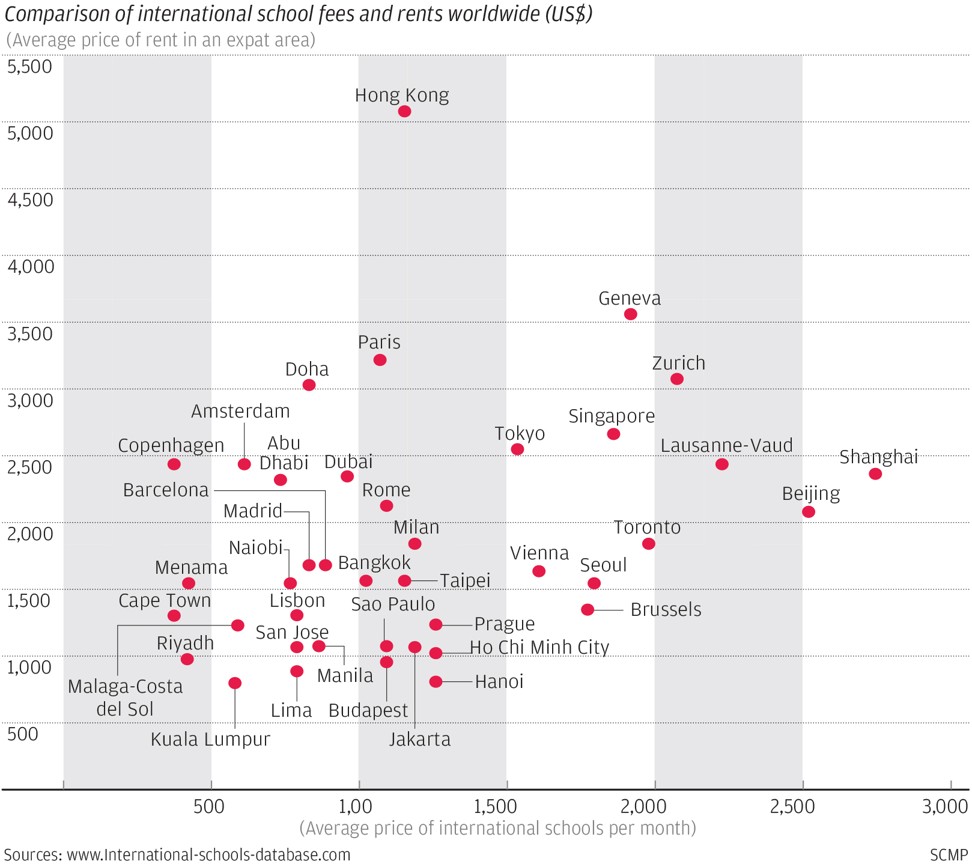 Wang is among a growing group of Chinese parents disillusioned by the costs of local international schools and the rote-learning in public schools in the mainland, and looking towards Thailand as a destination for education and investment.
Thai developers target customers in mainland China
According to Chinese international real estate website Juwai.com, the volume of enquiries for Thai properties in the first half of the year exceeded that for all of 2017, with Thailand rising from No 3 last year to become the top destination for Chinese buyers. It said it had received purchase enquiries amounting to US$962.2 million since the beginning of last year.
In Beijing, my children have to take extra English lessons after school in the absence of an English-speaking environment outside class, but not in Thailand
Monthly tuition fees of US$2,744 at Shanghai international schools are currently the world's highest, according to the International Schools Database. Beijing is second most expensive at US$2,519. By comparison, fees in Bangkok and Bahrain are US$1,032 and US$422 respectively.
Education is a common factor driving Chinese overseas property investments. Anxiety over the shrinkage of domestic wealth under a depreciating yuan, high inflation and shortage of viable investment options are other reasons. Next to traditional investment destinations like US, Canada and Australia, Thailand has its advantages – it is geographically closer to the mainland and less expensive.
Chris Deng, a businessman from eastern China's Nanjing city who shuttles between China and the US, bought a 35 sq m flat in central Bangkok for 1.3 million yuan this year. He said he planned to send his daughter, now two years old, to a local kindergarten, and possibly primary school in Thailand.
Why Hong Kong investors are snapping up flats in Southeast Asia
"I want my kid to grow up in an international environment," he said.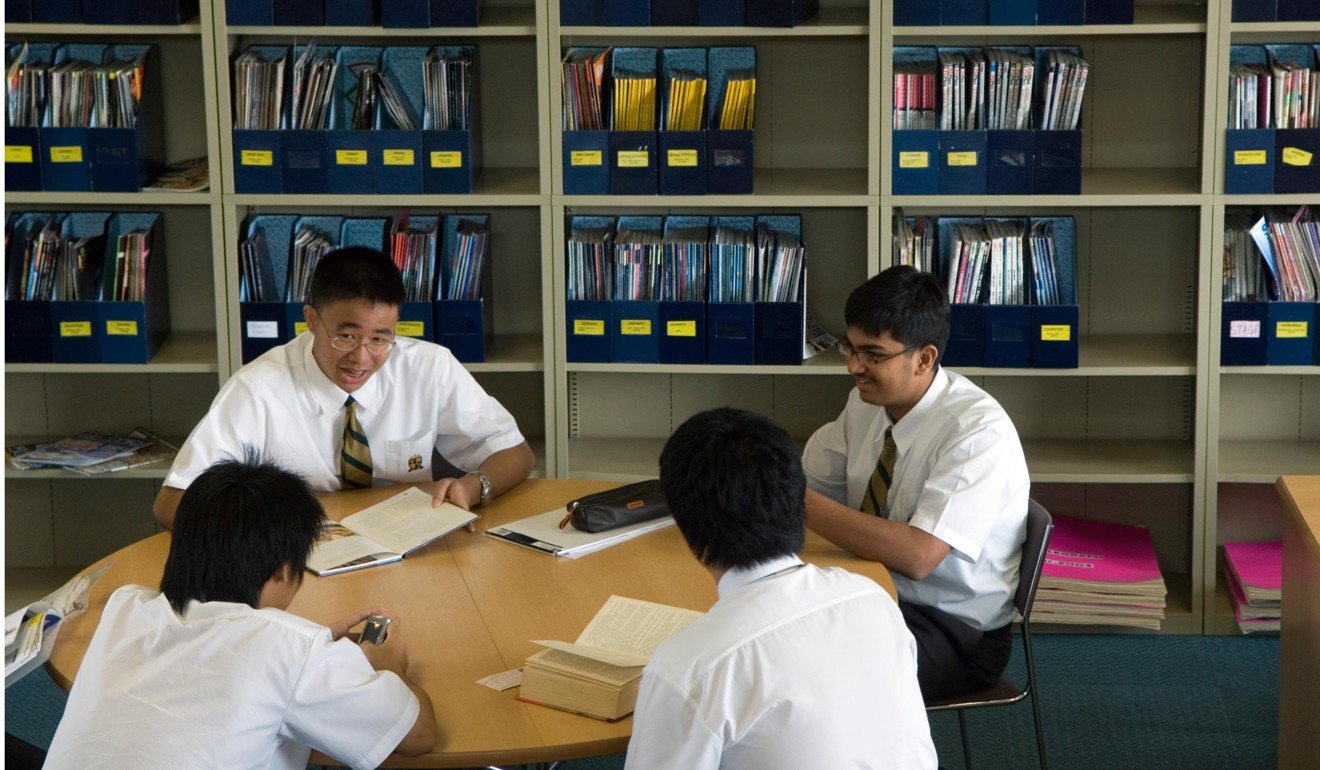 Deng said he considered his Thai investment as part of a global portfolio that includes property assets in the US and other mainland cities.
"In Thailand, I can get a 5,000-6,000 yuan monthly rent. In Nanjing, I get a similar rent for my 100 sq m home, which is now valued at 5.6 million yuan," he said.
An annual yield of close to 10 per cent was the major draw for Jennifer Wu, a 25-year-old Chongqing native to invest in Bangkok. Wu bought a 28-sq m flat for 566,000 yuan, via Uoolo, an app that helps Chinese buy properties overseas.
"I heard that universities there are good, which could be an option for my future kids," she said.
Wang said parents who can afford the higher fees for mainland international schools would prefer to pay them as sending their children elsewhere usually require a parent giving up a career to move overseas with the child.
"But living in Thailand hasn't changed much for my children and me. Each time when we land in Beijing, they kept asking me, when we could get back to Thailand?"
This article appeared in the South China Morning Post print edition as:
High tuition fees spur parents to look to Thailand
https://www.scmp.com/property/hong-kong-china/article/2159400/mainland-chinese-parents-buy-education-and-properties
Mirror, mirror on the wall, which residential property is the fairest of them all? Well, ultimately it depends on your financial capability, location and personal needs – but let us lay out the differences for you.
Are you tired of paying rent every month or have your parents been dropping hints that it is time for you to leave the roost? Or perhaps you were inspired to consider jumping onto the home ownership bandwagon after reading our recent article on how to buy a house in Malaysia in 12 steps?
So you are pretty confident that you are financially ready, only, what property type should you go with? – worry not, there are so many types of homes in Malaysia for you to choose from! Most first-time homebuyers are aware of the two main categories: landed and high-rise, but lo and behold the distinction between residential properties do not stop there. Just drop by our New Launch property listing page and you will see a long list of property types including terrace, apartment and bungalow.
Why don't you sit back and relax while we take you through the top 8 residential property types in Malaysia:
Typically, high-rise residential units bear cheaper price tags in comparison to their landed counterparts but do bear in mind that pricing differs greatly between locations. We also share the latest Per Sq ft pricing for each property type in Selangor, as recorded by brickz.my. where the source of sale data is from the Valuation and Property Services Department (JPPH).
#1 Condominium
»Typical size range: 650 sq ft – 1,500 sq ft
»Median PSF: RM412 (July 2017 – May 2018)
A condominium or condo is an individually-owned housing unit within a multi-unit or strata building, where a typical unit will comprise of at least 2 bedrooms and 1 bathroom. Ownership of a condo is restricted to the unit only and does not include other common properties like the swimming pool and lounge area.
A condo unit is typically smaller than a landed residential unit but it is a popular option among city dwellers for its wide range of facilities which typically include a swimming pool, gymnasium and a children's playground. The higher-end developments usually boast a fancier set-up which includes themed gardens, spa facilities and infinity pools. Some luxury condominiums are even larger than a landed home with impressive built-ups of up to 10,000 sq ft!
Owners also enjoy at least one allocated parking space and round the clock security. Take note that you will have to fork out a sum of money for service charges, which are monthly payments for maintaining common facilities and common property.
#2 Apartment
»Typical size range: 550 sq ft – 1,200 sq ft
»Median PSF: RM295 ( July 2017 – June 2018)
In Malaysia, an apartment is similar to the condo albeit being the cheaper version. The distinction therein lies in the type of facilities offered. An apartment has lower-end and more basic facilities like outdoor parking space, 24 hours security along with elevators and a common playground or sports area.
They may not seem as glamorous but apartments are a great option for a starter home as it bears a very attractive entry price. There are many older but well-maintained apartments scattered throughout strategically located residential neighbourhoods in states such as Selangor and Penang.
For example, Bayu Apartment in Damansara Damai (pictured below) may be a middle low-cost development but it offers a swimming pool, covered car park and a barbeque pit. You can get a 3-bedroom unit measuring 750 sq ft for roughly RM250,000.
Alternatively, house hunters could consider apartments under the RUMAWIP project, which is an initiative under the Ministry of Federal Territories to make homes affordable for middle-income earners living in the city. For instance, Lily Apartment, one of the more recent developments in Kuchai Lama, is reasonably priced from only RM 300,000.
#3 Flat
»Typical size range: 400 sq ft – 900 sq ft
»Median PSF: RM186 ( July 2017 – June 2018)
The flat is an option for home seekers who are on a shoe-string budget. Being on the lowest end of the house price spectrum, flats are popular among the working class.
Flats sold between July 2017 and March 2018 in Subang Jaya for instance, have a median price of RM 148,000. It is quite a steal for those who do not mind its lack of security and facilities. However, flats across the country get a bad rep for being undermaintained.
Most flats do not provide any amenity whatsoever except for an open parking lot and maybe a surau. There are no elevators too as most buildings are walk-ups and are at most 5-storeys tall.Nevertheless, there are flats up to over 20 stories tall with shops and mini markets located on the ground floor, these tend to be low-cost housing schemes built by the government.
#4 Serviced Residences/SoHos
»Typical size range: 400 sq ft -1,200 sq ft
»Median PSF: RM613 ( July 2017 – May 2018)
A rung higher than the typical condo, serviced residences are usually marketed as being more luxurious and exclusive. Depending on the price range, some units even come fully-equipped with hotel-like facilities such as a concierge and room service.
However, the majority of serviced residences being launched are almost exactly the same as condominiums except for their land type. The former bears a commercial title and are usually part of an integrated or mixed development. Many serviced residences in the Klang Valley are connected to a mall, retail shops and even offices.
A great example is the KL Getaway serviced residences (shown below) which are part of a bigger development comprising of residential, retail and office components.
Quite a few developments are marketed as Small-office Home-office (SoHos) where these units bear loft-like layouts, enabling owners to utilise them as both a home and office. Even though serviced residences and Small-office Home-office (SoHos) bear commercial titles, these properties are 'residential-purposed' and are thus considered as a housing accommodation. They have standard Sale and Purchase Agreements (SPAs) and fall under the jurisdiction of the Housing Development (Control and Licensing) Act 1966 (HDA).
Serviced residences are suitable for millennials and city slickers alike for its prime location and easy access to retail outlets like shopping malls and hypermarkets.
Gaining popularity even outside of the Klang Valley Conurbation, 91% of the 1,530 serviced apartments launched in Malacca this year have been sold, as revealed by the National Property Information Centre (Napic) in its Q12018 Report.
#5 Terrace House/Link House
»Typical size range: 750 sq ft – 1,600 sq ft
»Median PSF: RM368 ( July 2017 – June 2018)
Terrace homes are also known as links houses, even though one is larger than the other. A terrace house shares its walls with the property next door, where corner lots tend to be larger in size. They are usually built 1 to 2 storeys high with between 10 to 12 units in each row of houses. A basic 1-storey unit will have 3 bedrooms and 2 bathrooms whereas a 2-storey home will feature 4 bedrooms and 3 bathrooms.
With the exception of highly urbanised areas like Kuala Lumpur, Penang and Johor Bahru, terrace homes are still the number 1 preferred property type in Malaysia due to its value-for-money characteristic, where one is able to own a larger than average home at an affordable price tag.
Urbanites should not despair however, there are still quite a few hidden landed gems in Selangor, where one can obtain a sub-sale property within the RM500,000 range. Those seeking newer properties should also consider checking out suburbs such as Bangi, Klang, Sepang, Rawang and Semenyih where developers have been launching reasonably price terrace units within gated and guarded developments in the recent years.
Meanwhile, in Johor you can score a new terrace home measuring an impressive 1,237 sq ft from as low as RM270,888.
#6 Bungalows
»Typical size range: 2,000 sq ft – 12,500 sq ft
»Median PSF: RM368 ( July 2017 – June 2018)
Bungalows are the 'loners' of the group, as this standalone home usually sits on a private plot of land, where square footages and land area vary greatly.
As per the law of diminishing returns, the median price per sq ft decreases as unit size grows, thus explaining the low median PSF recorded in Selangor (RM368).
Should you look at the bigger picture however, you will discover why these homes are touted as the preferred option for the rich. Looking at brickz data, a 3-storey, 4,314 sq ft bungalow in Setia Eco Park, Setia Alam sold in January 2018 might have a reasonable PSF of RM302 but its selling price topped RM3.3 million!
Nevertheless, selling prices fluctuate greatly according to location, land area and of course, age. Older, single-floor bungalows in Ipoh for instance, hover in the RM300,000 range.
#7 Semi-Ds
»Typical size range: 2,300 sq ft – 5,600 sq ft
»Median PSF: RM310 ( July 2017 – June 2018)
Semi Ds or semi-detached homes are basically a pair of houses which are mirror images of one another and they share a common wall to form one building. The other sides of the property is similar to a bungalow, with open land at the (free) side, front and back.
In the past year (July 2017 – May 2018), Taman Aman Perdana in Kapar garnered the highest semi-D sales in Selangor with 282 transactions. The double storey homes bear built-ups between 2,400 – 3,200 sq ft and a median PSF of RM271.
#8 Townhouse
»Typical size range: 560 sq ft – 7,000 sq ft
»Median PSF: RM329 ( July 2017 – May 2018)
A townhouse can be described as a vertical terrace house, there are usually 2 houses stacked upon one another, where each unit could comprise of either 1 or 2 floors respectively, depending on the house height.
These buildings which look like one big home from the outside also resemble a low-rise walk-up; lower units can be accessed directly from the ground floor whereas the higher units can only be entered through a staircase on the side of the building.
This property type is also marketed as cluster homes, which are uniformly designed, landed homes built in clusters. Located within a gated and guarded (G&G) housing estate, owners get to enjoy recreational facilities such as a clubhouse and park with other residents within the development.
The Cahaya SPK Premier Townhouse in Shah Alam, for instance (pictured above) is located within a G&G compound and boasts clubhouse facilities and 3 thematic gardens.
Selling prices are quite affordable, with newly-launched townhouses in the Klang Valley and Johor going from as low as RM368,000 and RM604,800, respectively.
Source: https://www.iproperty.com.my/guides/want-to-buy-a-home-here-are-the-8-available-types-in-malaysia/
Wednesday, 01 August 2018
Know their dissimilarities before deciding which is a better buy
There's no doubt that buying a house is a lifetime commitment. Apart from getting a job, tying the knot and having children, purchasing a property is also seen as an important part of one's life. However, with so much information out there, understanding the property market can be intimidating, even outright confusing at times.
Some of the areas that need serious consideration include planning the budget of the property, selecting the optimum area for the property as well as knowing the documents that will be needed in order to purchase a property. But, believe it or not, for most people, the thing that confuses them often times is whether to choose a Freehold, Leasehold or Bumi Lot – otherwise known as Bumiputra Reserve or Malay Reserve Land. Below entails the explanation for each Land Title type, featuring the differences as well as the limitations.
Freehold
Freehold properties have always been the preferred one as it is perceived permanence in the title. Freehold property is when the state sets aside a plot of land and disposes it indefinitely to an individual. This is seen when the developer build freehold bungalows, private housing and condominiums. So when the developer owns the land, properties built on it are transferred to the buyers provided it is a landed residential property such as a bungalow or a terraced house. This ownership will be in the form of Master Title. However, for condominium or other high-rise residential properties, the buyer owns a stake in the condo (based on the units) but the developer still owns the land. In this case, the developer will distribute the ownership via Strata Title.
Freehold land definitely has a fair bit of advantages. As such, owners face fewer and less stringent restrictions when they want to transfer their land to someone else. Besides that, they also have the right to subdivide and allocate the land, although it is still subject to town planning controls. Even though there isn't any development taking place on a freehold land, the state still cannot claim the land from the owner, which means owners are not forced to stick to a deadline. Apart from that, the land also goes through stable growth provided the property as a whole is in a good condition. If there's a chance for redevelopment of old freehold properties, the owners will still be compensated.
As for the restrictions, do note that certain freehold properties will require the consent of the state when transferring ownership. Therefore, it's advisable for potential buyers to look at the title of the property to find out if there are any restrictions on the land before purchasing it. Apart from that, unlike leasehold, only environmental and town planning controllers can limit freehold developments. Under the Land Acquisition Act 1960, the state can take back freehold land if it is for public purposes such as an MRT project or economic development.
Leasehold
Leasehold is the least preferred land title in the market. The properties on leasehold land typically come with a lease of 30, 60, 99, or in some cases, 999 years. Such land comes with a lot of restrictions and they are written down in the lease. The tenant is required to care for the land as defined by the land legislation. If the state deems the tenant unfit, the security of the tenure can be compromised and the state can also forfeit the lease for non-performance.
As for the restrictions, here are a few that's worth mentioning:
1. It takes longer to sell
During the period of ownership, only the state or an equivalent can grant approval for a transfer of the lease. The sale for a leasehold property takes 3 + 1 months and it only starts after the state has given its consent, which can take anywhere from six to a year. This means that reselling your property can be a problem in the future.
2. Value can be lower than freehold
When we speak of the value, experts say that properties with a 99-year lease go up at a similar rate with its freehold counterparts during the first 20 to 30 years. In some cases, leasehold properties do gain more value than freehold ones during the early years. However, beyond 30 years, the value stagnates and depreciates until the expiry of the lease.
3. Financing might be more difficult to obtain
Another problem one might face is with financing. Financial institutions tend to be reluctant to lend to those wanting to acquire leasehold properties with less than 50 years remaining on the lease. Most banks will pick to borrow money to leasehold properties with at least 75 years left on the lease. Even if you get your financing approved, your loan amount will most likely be lower than the maximum 90%, which means you have to fork out the remaining amount by yourself.
4. The price value is lower than freehold
Here's another bad news. Price-wise, leasehold property may or may not be cheaper than a freehold of similar specifications. Assuming all the details of the properties are equal, like built-up area of the building and the land size, the price of a leasehold property if often 20% lower than a freehold one.
Bumi Lot
Just like the title indicates, Bumi Lot is open for sale or lease only to Bumiputera which include Malays, Sabahans, Sarawakians as well as non-Malay Muslims. These property types exist in every new development where a certain percentage of the developments have to be allocated to Bumiputera. For instance, in Klang Valley, all new developments must allocate 30% of its units as Bumi Lots. If you wish to convert the Bumi Lot to a non-Bumi Lot, it will require much time (counted in years) and in most cases, the requests are usually rejected. Bumi Lots are also least considered by investors because their market is limited and its price appreciation is considered to be the slowest among all the three land titles.
Source: https://www.iproperty.com.my/guides/freehold-leasehold-and-bumi-lot-learn-the-differences-and-limitations/